Infinity USB Smart (VCP) guide for Windows



The Infinity USB Smart can be used in VCP mode on Windows in two different ways. In either NORMAL mode or MODULE mode using the Smart VCP module.

Using the Infinity USB Smart in NORMAL mode only requires the use of the Infinity USB Smart software to create and configure the virtual serial port. No USB drivers are needed for this.

Using the Infinity USB Smart VCP MODULE on Windows requires serial USB drivers to be installed the first time the device is used, however the Infinity USB Smart software does not have to run in order for the VCP to work.

The most suitable mode depends entirely on the final setup, but in most cases the normal mode is recommended for use on Windows.


NORMAL mode - Creating a virtual COMport

The simplest way to enable a virtual COMport (VCP), is to select the 'Basic' mode and press 'Enable', this will create a virtual COMport with default settings.


Basic configuration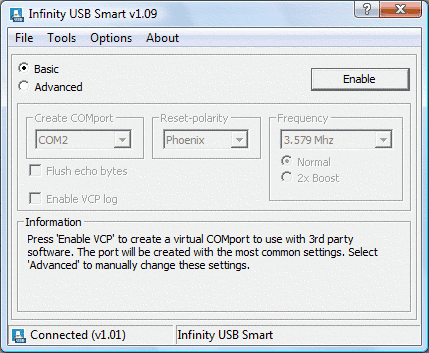 To control which COMport is created or to change any of the default settings, select 'Advanced' mode and select the desired COMport to create, and then press 'Enable'.


Advanced configuration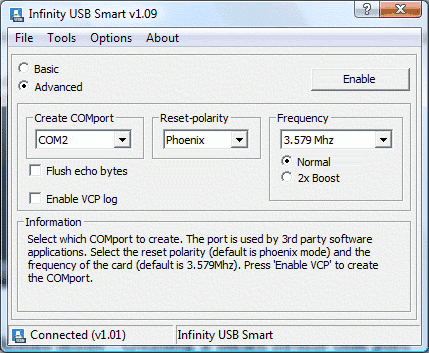 Once the port is created the software will minimize to the tray and it will be ready for use.
Rightclick the Infinity USB Smart icon to exit the software or to bring up the main window.


Infinity USB Smart virtual COMport ready for use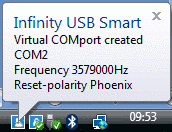 ---


MODULE mode - Creating a Smart virtual COMport

It is possible to use the Infinity USB Smart (Smart VCP module) directly in Windows, without the Infinity USB Smart software running.
When the Infinity USB Smart is connected to the USB port, a COMx port is created, and there is no need for any additional software, once the USB serial drivers are installed.

This guide explains how to install the Smart VCP module and install the appropriate drivers for Windows.


Set the switch on the bottom of the device to the "NORMAL" position.


Connect the Infinity USB Smart to a Windows PC.


Default drivers for Infinity USB Smart will install automatically if needed.


Install the Infinity USB Smart software, and run the software when done.


From the menu select "Tools->Install module".


Select the desired module "Smart VCP" for either 3.58MHz, 6.00MHz and Phoenix or Smartmouse mode.


Press "Update".


A few seconds later the module will be installed.


Close the software and disconnect the Infinity USB Smart from the PC.



Set the switch on the bottom of the device to "MODULE".


Connect Infinity USB Smart VCP module to a USB port


When the "Found new hardware wizard" starts, point it to the drivers-folder.

Once the driver is installed the device is ready for use. To locate the COMport number assigned to the new serial port :


Right click 'My Computer' and select properties, or open 'System' in the Control Panel


Select the tab 'Hardware'


Click 'Device Manager'


Expand 'Ports (COM & LPT)'


Locate the entry "USB Serial port (COMx)" where X denotes the COMport number assigned to the VCP

To change the port number or adjust performance please read this how-to: Optimize performance.