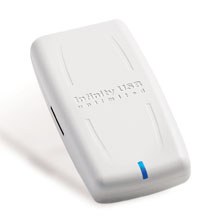 The next generation of smartcard programmers...
The Infinity USB Unlimited supports phoenix-based cards over USB. It has two smartcard connectors (regular and SIM/GSM), a fullspeed USB 2.0 interface and a very powerful firmware-upgradable CPU ensures that this programmer has no limitations.
Download
Support
Next generation smartcard programmer


The Infinity USB Unlimited brings a whole new world of possibilities to you. It is a pure USB programmer that enables phoenix-mode over USB by directly supporting the most popular phoenix-based smartcards on the market today.

Besides the support for phoenix-based smartcards, all popular PIC-based and AVR-based (Fun) cards are ofcourse also supported.

To top it all off an extra SIM/GSM smartcard connector has been added to be able to support SIM-cards directly. The programmer is enclosed in a custom designed small white casing with a full-coloured LED.




Ultrafast


Fullspeed USB 2.0 (USB 1.1 compliant) interface combined with a 25MIPS powerful CPU and optimized programming algorithms, sets new speed-records for any programmer on the market.




Two smartcard connectors


The Infinity USB Unlimited has two smartcard connectors, one for regular sized smartcards and one for small form factor (SFF) smartcards like SIM/GSM. Software for editing SIM-cards is included.




Custom design


The small and custom designed white casing is very robust and of very high quality. An RGB (full coloured) LED makes it possible to display any colour, and the different colours makes the programmer more intuitive to use, since any state is represented by it's own colour.




Phoenix / Smartmouse mode


A stepless frequency generator has been added making it possible to generate clock-frequencies in Phoenix and Smartmouse mode from 0,1MHz to more than 100MHz including the mostly used 3.58, 3.68 and 6.00MHz. Both phoenix and smartmouse mode is supported.
In addition to the direct native support of most Phoenix-based cards in the Infinity USB Unlimited software, the VCP-mode (Virtual COMport) makes it possible to use most of the existing 3rd party software, that currently requires a Phoenix/Smartmouse compatible programmer thru a (serial) COMport. Different VCP profiles are available to ensure optimal compatibility with specific 3rd party software.




Future proof


The flash based firmware is upgradable to make sure future smartcards and features can be added without the need for new hardware.
The Infinity USB Unlimited software is often updated and will automatically upgrade the firmware as needed. Software upgrades are ofcourse free of charge.

Both current 5V smartcards and future 3.3V smartcards are supported.

To give 3rd party programmers the best possibilities for writing software for the Infinity USB Unlimited. a DLL-based SDK with complete documentation, and a developers forum is available.
With the SDK, current smartcard software can be easily modified by the developer, to communicate directly with the Infinity USB Unlimited, adding more functionality than with just the regular native Infinity USB software.
The SDK is supplied with programming examples for different popular programming languages.




Multiprogrammer mode


Connect 2 or more Infinity USB Unlimited to your PC, and you'll be able to write as many cards as you have programmers connected, at the same time. It will just take the time of 1 card, even if you have 10 programmers connected, writing 10 cards at the same time.
Up to 127 Infinity USB Unlimited (only limited by the number of available USB ports) can be controlled by the same software. For users needing to write a high amount of cards this is an ideal solution.
Additional programmers are automatically detected and you'll be able to name each programmer to keep track of which is which.




Easy to use software


The well known and easy to use Infinity USB software has been redesigned to add support for phoenix-based cards over USB.
The software makes programming a phoenix-based card as easy as programming a simple goldcard. It automatically detects which type of card is inserted and has an advanced detection algorithm, for detecting unknown cards including phoenix-based cards.

The Infinity USB Unlimited software runs under Windows 98, Windows 2000, Windows 2003, Windows ME, Windows XP, Windows XP64, Windows Vista, Windows 7, Windows 8 and Windows 10. Drivers for both 32 and 64 bit systems are available.

For a complete list of all supported smartcards, please see the product-matrix.

Further cards/combinations of CPU/EEPROM will be added when new cards are available. The generic hardware / flashupgradable firmware solution ensures that only a software download will be needed for adding most new cards.

The user-interface has been translated into the following languages:

| | | | | |
| --- | --- | --- | --- | --- |
| English | Danish | German | French | Turkish |
| Spanish | Italian | Flemish | Dutch | Swedish |
| Finnish | Polish | Czechish | Hungarian | Estonian |
| Icelandic | Norwegian | Portuguese | Greek | |




Additional software


[Infinity SIM editor] - Additional software for editing SIM/GSM cards thru the SIM or smartcard slot on the Infinity USB Unlimited.
Backing up, copying or editing the addressbook and SMS/Text messages on your SIM card is fast and easy using this utility.
In the latest version (1.30 and up), it's even possible to undelete previously deleted SMS/Text messages.

[Infinity PasswordSafe / WinLogon]
PasswordSafe is used for safe and secure password storage and distribution, on standard PIC or AVR based cards. Up to more than 1000 passwords can be stored on a single smartcard, and passwords are easily accessed with a custom shortcut key. PasswordSafe WinLogon can be used for enhancing the Windows logon security, by storing the Windows logon password on a PasswordSafe card.




What other thinks?


Infinity USB Phoenix has been independently reviewed by www.duwgati.com, find the review here. Duwgati made a tutorial for the PasswordSafe software as well, find it here.




Package contains


Your Infinity USB Unlimited will be delivered in a box containing:

· Infinity USB Unlimited programmer
· USB cable
· Software and driver CD
· Printed multi language users manual




An overview

of all products can be found on the product-matrix.